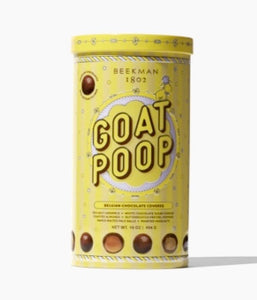 Our Neighbors' favorite funny treat is finally back!
This delectable, snackable chocolate treat (and perfect gag gift!) boasts an array of flavorful fillings, from caramel to pretzel, cookies, butterscotch, and more. Pop one (or twelve) into your mouth and get whisked away on a magical journey led by our esteemed goat artisans.
It's the perfect gag gift, white elephant gift, or sweet treat for you and your family.
Includes 6 flavors:
Sea Salt Caramel
White Chocolate Sugar Cookie
Toasted Almonds
Butterscotch Pretzel Poppers
Maple Malted Milk Balls
Roasted Hazelnut