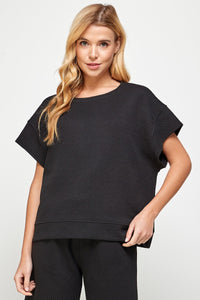 Introducing the perfect companion to our Textured Soft Cropped Lounge Wear Wide Pants – the Short Sleeve Textured Top. Elevate your style game with this versatile and chic top that effortlessly complements the geometric ribbed pattern of the pants.

Crafted with meticulous attention to detail, this short sleeve top boasts the same luxurious blend of fabrics as its counterpart: 83% Polyester for durability, 15% Rayon for a soft and breathable feel, and 2% Spandex for that essential flexibility. The result? A top that moves with you, keeping you comfortable throughout the day.

The textured design of this top adds a touch of sophistication to your ensemble. Its unique pattern not only feels delightful against your skin but also creates a captivating interplay of light and shadow that's bound to turn heads.

Whether you choose to wear it as part of a monochromatic set or mix and match with other pieces from your wardrobe, this short sleeve textured top is a versatile must-have. Dress it up with accessories and heels for a night out, or dress it down with sneakers for a casual day look – the possibilities are endless.

Embrace the essence of contemporary style and comfort with our Short Sleeve Textured Top. Elevate your outfit game and make a statement wherever you go. Your wardrobe deserves this level of versatility and elegance.
105257|81123ETD